IN BRIEF

Haig Kayserian is an internet business expert, entrepreneur and angel investor.

Kayserian has founded two international companies - KAYWEB and KAYWEB Angels; he has invested in and co-founded over 10 United States-based technology startups; he has spoken as an industry expert before audiences in New York, San Francisco, Sydney and Melbourne; he has talked web business on national television, and has been quoted on his expertise by mass media in the United States and Australia.

He was named by New York business magazine, Crain's New York Business among its 'People to Watch' and his work has been recognized by media brands, including Huffington Post, Reuters, ABC, Mashable, Business Review Weekly, VentureBeat, Smart Company, and more.

Kayserian has been appointed to several government Boards relating to the web industry and judged industry awards run by independent industry organizations.

He has personally advised and consulted hundreds of businesses and organizations on web strategy, he employs dozens in his offices in New York, Sydney, Melbourne and Manila, and has been involved in building over 500 websites, web applications, mobile applications and software.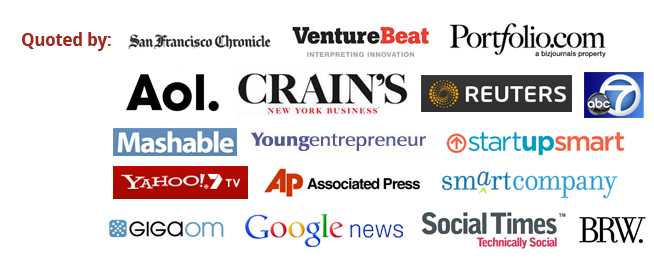 IN-DEPTH
The first company Haig Kayserian founded - KAYWEB - has offices in Sydney, Melbourne, New York and Manila, providing premium websites and apps solutions to businesses, organizations, government and individuals.
KAYWEB and Haig Kayserian specialize in web and mobile projects of entrepreneurs, helping people with great ideas succeed in turning their website projects and mobile app projects into successful and sustainable businesses.
Born in Sydney in 1982, Haig Kayserian graduated high school at Galstaun College in Ingleside NSW. He completed his Bachelor of Arts degree at Macquarie University, majoring in Media & Cultural Studies, also taking subjects in Politics, Multimedia and Marketing.
Post graduation, Haig Kayserian worked as a journalist and editor with Special Broadcasting Service (SBS), a journalist with the Sea Eagle News and Managing Editor of his first online business, SportsNews Australia, which he later sold.
Haig Kayserian founded KAYWEB Holdings (initially Kay Web Creations) in 2004, with the goal of providing premium web design services to Sydney businesses. The business expanded exponentially in 2006.
Services offered were no longer limited to website design and development; with web application development, mobile application development, web marketing and social media marketing added to the services menu, each with dedicated expert staff.
Haig Kayserian earned his qualifications to project manage digital projects.
He has since been the chief architect for hundreds of projects for entrepreneurial and corporate clients, as well as proprietary software under the KAYWEB brand. These include KAYWEB MYOB RMsync (synchronizing software between ecommerce websites and MYOB Retail Manager software), KAYWEB CMS (a module-rich, search engine-friendly, state-of-the-art content management system with ecommerce module), KAYWEB CRM (a state-of-the-art, order accepting customer relationship management system), KAYWEB Compound Manager (a pharmaceutical compounding system linked to KAYWEB-built web-based CRM, Inventory Manager, Formula Creator, Medication dispenser and Courier dispatcher),  and a series of software under the sub-brand Web Advocacy.
In 2010, Haig Kayserian launched KAYWEB, LLC - the United States arm of the websites and apps business, setting up base in the heart of New York City.
With this office, KAYWEB's aim is to provide a more global representation to its entrepreneur clients, and attract even more entrepreneurs to their stable of clients and partners.

Thus, Haig Kayserian also founded New York Angel Investment company, KAYWEB Angels, LLC. KAYWEB Angels is an angel investment group based in New York City, providing development services and mentoring to web and mobile startups in exchange for equity. He is the CEO.

Haig Kayserian has been quoted by the San Francisco Chronicle, ABC7, Mashable, Venture Beat, AOL, Crain's New York Business, Portfolio Magazine, Reuters, the Associated Press, gigaOM,  YoungEntrepreneur.com, Startup Smart, Smart Company and the Seven Network, speaking about web and mobile business, social media and web marketing.

In 2011, Crain's New York Business named Haig Kayserian among its list of 'People to Watch in Silicon Alley', which is the nickname given to New York City's tech scene.
Haig Kayserian has overseen the development and launch of hundreds of websites and mobile projects as KAYWEB Managing Director.
Haig Kayserian has ownership in multiple web businesses across Australia and the United States, and has been involved in the sale of several for himself and on behalf of clients of his consulting service. A passion of his is to get involved as an an angel investor and equity partner in those projects which have a great chance of success, given the right guidance.
Haig Kayserian is considered an industry expert in the fields of web and mobile business strategy and web and mobile marketing - studying and practicing search engine optimization, social media optimization and mobile marketing trends to achieve some outstanding success for his clients over the years.
He has spoken on these topics at public forums and events in three continents, and on national television in Australia. Haig Kayserian blogged for one of the largest social media blogs on the web, Social Times.
As an internet business consultant, Haig Kayserian has earned praise of his knowledge of existing web and mobile enterprises - the reasons for their successes and failures. His experience in dealing with entrepreneurs has led Haig Kayserian to develop a unique skill-set which will help clients analyse their projects before development or redevelopment. He helps design the architecture of such projects, launch them and market them with a tailored multi-tiered plan.
Haig Kayserian is an active member of the Internet Industry Association (IIA); sitting on the IIA Online Content Taskforce. He is also a member of the Australian Interactive Media Industry Association (AIMIA) and the Australian Web Industry Association (AWIA).
In 2010, Haig Kayserian was part of the .AU Domain Administrator (.auDA) Names Policy Panel, which sets domain name policy for the Australian market on behalf of the Australian government.
That same year, he was also named as a judge of the AIMIA Awards, the most prestigious website awards in Australia. He continues to judge these awards every year.

In 2011, Haig Kayserian was invited to present at Socialize New York - a summit dedicated to advising United States businesses about how to monetize social media. He was also invited to present at the All Facebook Expo in San Francisco.

In 2012 and 2013, Kayserian spoke at dozens of industry events, including New York's Independent Retailer's Week, New York Entrepreneur Week, ANCA Grassroots in Washington, DC, The State of Startup Funding in New York and The Great Mobile Debate in New York.
Haig Kayserian also sits on the Board of the Armenian National Committee of Australia and an active member of the Armenian community.
Haig Kayserian is married and lives between Sydney and New York with his wife. They are both actively involved in KAYWEB and travel between the company's offices regularly.
Haig Kayserian's Blogs are his thoughts on all topics of interest to him and is widely-read by other industry professionals. His services are available to all businesses and professionals with expert internet and mobile needs. Please contact his offices for more information by clicking here.